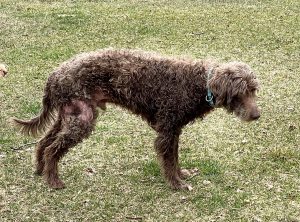 Kiefer's challenges
Having recently turned 14,  Kiefer strolled into my house and made himself at home. I could see his skeleton through his thinning hair. Large patches of his coat were missing from his legs and hips, and what hair he did have was very greasy. No one wanted to touch him because their  hands would end up with a thick layer of  yeasty smelling grease.
"BOOF, BOOF, BOOF". He barks at me to make sure he knows where I am. He barks at me if he needs something or even if he doesn't know what he needs…he barks at me all day and evening,
His challenges are now my challenges. What makes him comfortable, what makes him happy, can he get healthier, how to get people to want to touch him? What helps with the barking, can his diet improve, will supplements and bodywork help him feel better?
He is such a sweet soul. This is his journey.