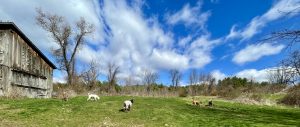 Kiefer and Zak are gentle in their older age. No one gets into a tiff over girls anymore, or gets obsessed with marking their scent around the property. They are true older gentlemen.
They wake up with tails wagging and bodies bouncing as they make their way outside.  But coming back inside for a delicious meal is why they are truly animated this early in the day.  The older guys savor their food longer than anyone else, slowly enjoying each bite.
Zak gets about 18 oz of raw food-a day, along with:
Dasuquin and fish oil for his arthritis
Gabapentin for pain relief
Digestive enzymes with pre/probiotics, along with "Runs Be Done" for his digestion and nutritional absorption
Fresh veggies and fruits-one cube (I blend up fruits and veggies and freeze in ice cube trays)
In his previous home he suffered from diarrhea nearly every night. This regime of diet and supplements has solved that issue, thank heavens!
Kiefer gets the same amount of raw food, along with everything Zak gets:
Dasuquin and fish oil
Gabapentin
Digestive enzymes with pre/probiotics
Fresh veggies or fruits
(Kiefer doesn't need "Runs Be Done.")
Kiefer also gets
Milk Thistle twice a day for his liver health
Kiefer's hair has grown back and is less greasy. He occasionally licks his hair, but has stopped chewing his skin.
His mid-section looks more relaxed and less bunched up, so I am guessing his liver feels better. He has more energy, and is much more animated and joyful.
My concern now is that he doesn't gain weight.
Both boys' back legs can be wobbly on their bad days. Maybe they over did it the day before.
After breakfast they wander around outside, sniffing and exploring for a while.  All 8 dogs settle down for nice naps on the thick comfortable beds back in the house, or if it's warm outside they will lie in the sun by the back door. Their choice.
Everyone is up and out in the afternoon. I try to play fetch with them, but to be honest only Maeve plays, the rest could care less. But they love when I am out with them, no matter what we do.
The boys have adjusted great with all of this. The only thing that could be an adjustment for them is that I am always talking or singing loudly-often in other people's voice's (right now it's Julia Child's)  It's one way to keep spirits up!
Dinner is served at 4pm.